I've been trying to find ways to fill in the time while we watch and wait for the fires.
I've written a short story to help relay the events of the last few days and how it feels now, on New Years Eve, waiting for the weather to cool and the fires to fade.
I'm safe, everyone I know is safe. But that doesn't take away the fear.
The Water Tower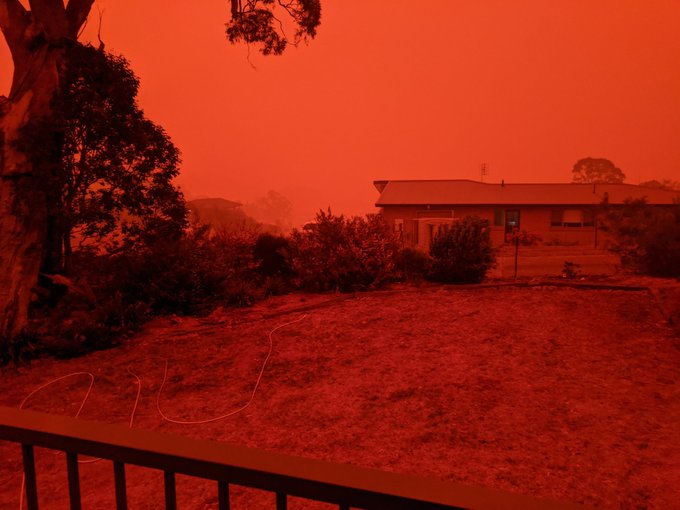 "That's disgusting."
A wall of smoke into NSW waited for us.
"Maybe it'll clear over the mountains."
I looked at my husband. "Maybe."
The thick cloying smoke that swallowed cars on the highway in front of us was a nuisance, filling the filters with smoke and stinging eyes. The pollution from the Sydney fires hadn't reached Victoria yet but there was hope on the coast things would be cool. I was determined to have my holiday.
"Look it's clearer through the mountains," I said hours later, as we wended our way out the other side of Tumbarumba and through the Kosciuszko national park.
"We'll still be able to enjoy the holiday," my husband said, and we checked on the dogs in the back who were ready to be out of the car after the eight-hour drive, with still two more to go.
Down through Cooma the skies cleared, and in a moment of relief we were at my parents in Bega.
"Hullo! Don't mind the dog weeing, she's just excited to see you."
"Oh, Lily," my mother chides, "thanks for doing that on my shoe."
"She just likes you," my husband laughs as we unpack and set up the tent.
"Glad to see it isn't too bad here," I say as we settle down for a tea. "It was awful on the other side of the Kosciuszko's."
"Oh, it gets smoky here too," Dad said. And it did.
*
"That's just ghastly," I said, spanning my camera across the smoke drenched hills tainting my holiday with their tang.
"Bega hasn't been that great," Mum said. "It was clearer before, but we've had few good days."
We talk about the fires. Its okay. They're far away.
*
I envy you guys your summer weather! My editor tweeted to me and I chuckle and go outside and take a picture.
Not that great, the smoke from the fires are awful! I send him the picture and he send me a grimace.
That doesn't look very nice.
Nope, I replied. I'm tracking how thick it gets by those hills and that water tower, its not great but we've got air con and whiskey, we'll survive. The tower has been my gage on smoke thickness, as long as we can see the tower its unpleasant but not too bad.
That afternoon we lost sight of the water tower, but it came back. It was fine.
*
"I'm going to the chemist," my husband said, keys in hand.
"What's wrong?" I asked.
"The smoke," he said, pinching the bridge of his nose. "It's messing with my sinuses and I've got an awful headache."
"Well get some soda water while you are there."
"While I'm gone, can you move all our stuff into the house?" he asked. "I don't want to be in the tent again tonight."
"Not a worry." I glanced outside. The smoke has retreated enough I can see the hills, the water tower's a beacon. Its fine.
*
"I don't know if we should go to poker tonight," I said to my husband who shrugged.
"We've just got cabin fever." He rubbed my back. "Let's get out for a while."
The drive is calm, the smog thick, but closer to the coast a sea breeze brushes the worst away. At the tables my father introduces us as novices' players and we're warmly greeted.
"You'll struggle to get back to Victoria now," one lady said, scanning her phone.
"We'll be fine," I said, trying to remember how to deal the cards. "We're taking the Cooma Road up to Adaminaby and over to Tumbarumba after New Year's Day."
"No, you won't," she said, her succinct and final tone rang in my years. "They've shut down the Brown Mountain road."
At home we checked. The roads are closed, and 11pm at night is no time to leave. We're trapped in Bega. Its fine, we have the house, even if I can't see the water tower.
*
I woke to an orange sky.
"Smoke is a lot thicker," I said to my husband who nodded. The water tower is clear, but beyond it the sky curls with blackened ash.
"See those two plumes," my Mum said. "They are the fires at Bemboka and north at Counegany but its miles away."
I stare at the horizon; it doesn't look it.
"Let's go down and get some things from the shops," I said. "Early before they get too crowded, its New Years Eve. Mum do we need anything?"
"Yes, I've got a little list, but just be careful, apparently there are people coming to Bega, they've been evacuated from the fires and it's a bit grim down there."
"Rightio," I called, and we collected only what was needed.
At 8:30am there were still a few shoppers about, tired, bedraggled but enjoying the cool. More than one gaze met ours, a friendly smile and curse at the smoke. And then we look to the horizon were a dark smear is worse than the haze that has shadowed our skies for days now.
We collect our things, buy a bit extra, not much, there will be others in more need than us.
They're selling water at the front, loads of it, and several people pass, filling their trolleys.
"My parents are on town," I said to my husband. "But they've got the tank."
I paused. "Lets just grab some small bottles for the trip on Thursday."
"Not sure the roads will be open."
"Let's grab them anyway."
*
At home my parents have taken down the tent we haven't stayed in for the last two nights, the heat and smoke too much.
We take it all down, pass jokes about how if they are evacuated at least they'll have the tent to themselves. They tell me its why they took it down, in case they are evacuated.
"Let's have a break," my Mum said. "Time for coffee and the sudoku."
"After coffee we'll get fire ready," my Dad said. "I'll get the hoses out and some buckets with towels."
And in the distance, the water tower is fading.
*
I film the sky. It turns darker and redder.
A hellish landscape with no relief in sight. The smoke has permeated everything, and I can't smell it anymore.
"I've uploaded all my books to a Google Doc file," I said to my husband, on the way out the door. "I'm going to wet the garden down for Mum, she's about to get on the roof and clear the gutters. Do you want to pack our bags? Mum and Dad have already packed go bags."
"Yeah, but can you hug your dog? I think he's nervous."
I hug the dog; he whimpers at me with little groans and I pat him and tell him it's okay.
When I go outside the water tower is gone. There's just the haze, and on my shoulders soft as snowflakes are the grey edges of ash.
*
"They just went to break for that ABC news presenter," I commented, lying on the couch with my phone after failing to concentrate on the sudoku. "The poor bastard's been reporting for hours now, sounds like he ran out of words and I don't fucking blame him."
"Eat something." My Mum puts an omelette in front of me, but my stomach is churning so much I don't want it. But I eat it, and its good, and I know I need protein. I can't remember if I ate this morning.
I'm watching the water tower. Its been gone for hours.
*
"Have you got any empty bottles?" I asked Mum, refilling my water bottles from the desk I've been pretending to work at while I flick through Twitter and Facebook.
"Yes why?"
"There are reports further north that the power's out and the sewerage lines ruptured so the tap water isn't safe to drink." I walked around the kitchen, collecting empty soda bottles and washing even milk bottles out.
"Oh dear," Mum said, and together we find and fill what empty bottles we can, check for torches and light.
The sky is darker, the creeping edge of smokes persistence eats away at it like the finger of time, inevitable as the smell soaking through our clothes into our skin.
"It's alright," Mum said after a moment. "As long as people are safe. The rest is just metal and money."
*
The light grows and fades. Black leaves fall from the sky. We've started spot checks every half hour or so.
The smell of banana cake is a sweet and hope fuelled contradiction to the constant pervasive smell of smoke. It bathes my face as I come inside, eyes stinging and wondering how people have lived in these unbearable conditions.
"I'm taking cakes down to the Bega emergency centre," my Mum said. "And I've got another one in the oven. Can you take it out a little after 5pm?"
"Why don't I go with you?"
"No, you need to take out the cake."
"Can't someone else do it?"
"I'd like it better if you stayed here."
I stayed.
*
The sky is still orange.
I still can't see the water tower.
I wont tonight, the sun is going down.
I stare at my clothes; all cotton. My mother's boots with thin socks so they'll fit. Jeans that aren't cotton, but they'll have to do for my thick thighs. A white cotton shirt, and I've stolen a business shirt of my Dad's to put over it.
There is nothing left to do but eat our New Years Eve dinner of soft cheese and smoked salmon, maybe have some champagne.
Hopefully the cool weather will stay.
My Dad walks in. "They say tonight we're going to lose our telecommunications some time tonight."
I nod and smile. "Yep, no worries."
There's nothing else to do.